Wedding Packages/Services
PJ Photography presents our Wedding Photography service using our Traditional post-bound albums which come in a variety of sizes and materials.
Wedding Photography Traditional post-bound album packages
We cover Wedding Photography in Sheffield and all of Yorkshire. Book early to be sure of covering your date.
PJ Photography post-bound albums.
Post-bound albums benefit from all the options that book-bound albums do, and are the ultimate updateable album.
A quality selection of post-bound album are available. These types of albums are produced with a wide mixture of cover materials and styles and make for a durable album.
These albums come in 3 sizes Universal 8x8, Classic 10x10 and Reportage 12x10.
The Reportage albums can contain a single 12x10 photo or up to 2-6 albums which really add impact and will allow the eyes to wonder around the page and the memories to flood back.
With the largest album size you can display more images in various configurations. There is a much more open feel and the extra weight adds to the experience of viewing your images in this contemporary album.
Classic size 10x10 albums can contain a single 10x10 or 10x8 photo or up to 4 to 6 images.
With the larger album size you can display more images per page - there is a more open feel and the extra weight adds to the feel of the book. The size adds impact and allows the memories to flood back.
The majority of pages will display 6-8 images of multi sized image
Universal size 8x8 albums contain single 8x8 or 8x6 photos or up to 4x images per page in a combination of sizes. The majority of pages display 3 to 4 images, having more single image pages produces a more pleasant looking album.
Coverage for the above packages includes:-
* Bridal preparation at home or venue.
* Groom Arrival at Church - Photos with family and friends.
* Bride Arrival - Car shots and shots with your father and bridesmaids.
* The service - If coverage is permitted.
* Groups Shots - Bride & Groom photos with families and friends.
* Bride & Groom - We will photograph you together in the grounds
* Confetti, bouquet throwing and other fun shots - as professional photographers we have a memory bank of techniques and styles we call upon.
* Bride & Groom alone
* Wedding Breakfast - Photos of the happy couple welcoming guests, speeches.
* Cake cutting
* First dance together as a married couple.
We will be taking photographs whenever we see an opportunity, we take far more than listed above as the day unfolds. We try to work in the background and allow your day to unfold naturally.
We attend your wedding until the first dance and a couple of dances later, by that time most couples want to party and not pose - but if you want more photography - I'd be only too happy to oblige.
Album Design
The album layout is designed by us and then emailed through to you. You can then alter the design layout and image selection- we will visit you and together make the changes to create the perfect album for you. If only a few changes are required we can do the work over email by sending a photo slide-show of the album. We often make several visits to alter the album design to your satisfaction.
Extras
We provide a free 'Pre-Wedding Session' with the all the packages.
We will create and print a montage photo using up to three images taken at the pre-wedding session and also provide a complimentary selection of mounted images.

After the Wedding you will receive another creative photo montage print. This again, is created with three images taken on the wedding day and makes for a lovely image.
You will again, receive a complimentary selection of mounted images from the Wedding CD.

The images below show the details of construction of a post bound album.

The bottom album on the page is a Rhapsody Black, Burgundy also available in Ivory, green and blue a Soft feel cover with two subtle embossed lines for a distinctive upmarket effect.

Florentine Burnt Orange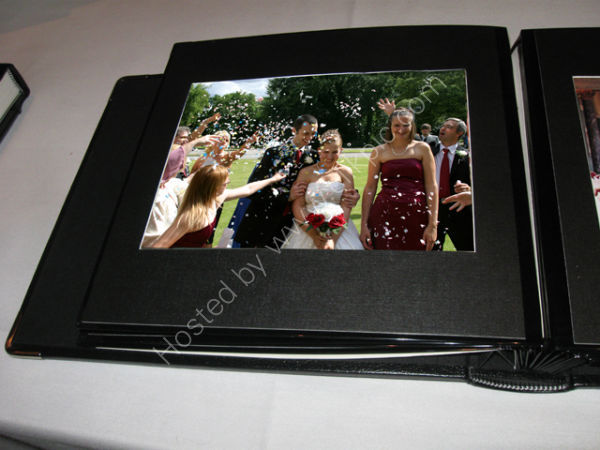 All Prices / Packages - subject to change.
All photographs are subject to copyright.